From
ESPN.com: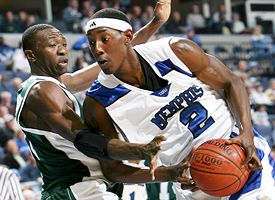 John Calipari's claims that this Memphis team could be as good as last season's were probably a little generous. With all the attrition, it would be a surprise to see another No. 1 seed from the Tigers this season. But one player who has made tremendous use of his increased playing time is Dozier.
In 2005-06 as a freshman, Dozier was a capable defensive replacement when inserted for Williams in the Calipari press, but offensively he was much more timid. Dozier has been more assertive this season, resulting in a mix of results. The big surprise is that he's been much more efficient from the field than he was last season, but not surprisingly he has also had a case of the dropsies more often than Williams did.
It hasn't been all rosy, however. He fouled out in just eight minutes of action against Georgia Tech, which should be enough to cause folks to hesitate about whether he will consistently produce against more athletic opponents. But so far, we can say that Dozier has made progress towards making significant contributions to the Memphis offense.
Dozier vs. Williams


FGA/40 MIN
PTS/40 MIN
eFG%
TO/40 MIN
Dozier ('06-07)
14.1
21.7
58.7%
4.4
Williams ('05-06)
15.0
18.9
48.0%
3.2