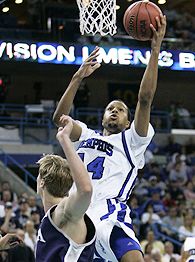 Sorry no updates over the weekend... I was in New Orleans. ;) Go Tigers.
My favorite columnist:
Team Effort Seals Deal
With slightly more than six minutes left in the game, Memphis Tigers coach John Calipari could feel it all slipping away -- the game, the season, the back-to-back trips to the Sweet 16.
Chris Douglas-Roberts had been carried off to the locker room with a sprained ankle. The Memphis lead had gone from 7 to 5, from 5 to 3, from 3 to a single layup.
What happened next may be the happiest stretch of basketball in Calipari's tenure at Memphis because it was everything he has always thought basketball should be.
Furious defense. Relentless rebounding. A collection of players who, tested by a moment, survive the moment by drawing on each other and their collective will.

The big surprise: Memphis Turns It's Weakness into Winning Ingredient

"The No. 2 Tigers 78-62 victory against the No. 7 Wolf Pack on Sunday at New Orleans Arena, was their 24th consecutive win. But heading into the game, there were still large questions looming over the Tigers. Two of the main ones were: Could they make their free throws? And could they execute in a half-court game?
The Tigers answered the first question in hilarious fashion; they hit 26 of 34 free throws, with each one they made being met with a wild cheer. That registered at a 76 percent clip, which was decidedly better than the 61.3-percent rate they were hitting entering the game. Much was being made about the Tigers' struggles, especially when Coach John Calipari said that he had actually stopped having his players practice free throws and had them just work on visualization techniques."

The Scare:
Deep Memphis Deals with Douglas-Roberts' sprain
"I'm going to play," Douglas-Roberts told ESPN.com as he hobbled out of the locker room.
Calipari was quick to say, "We don't know yet." But he added, "we hope."
So here is the rub for Memphis. Even if Douglas-Roberts doesn't play, this team is deeper and tougher than a year ago. The Tigers still might survive without him -- or at least, without a healthy version of him -- in San Antonio.
Still no love:
Tigers in Sweet 16, but are they any good?
Calipari has some depth, but has been going only eight deep lately. Douglas-Roberts plays the most minutes and score the most points. Calipari points to the fact that they've won without CDR before this season.
But that was against East Carolina and Tulsa.
Not Texas A&M.
"Everyone has doubted us," Memphis sophomore guard Antonio Anderson said.
For good reason.
A little bit of love:
Wolves no match for Tigers
Their top scorer was in the locker room getting X-rays. The lead they'd been nursing was down to two points. And the other team's star player was finally rolling. If the
Memphis Tigers
were going to crack, this was the time - especially because they were facing a formidable opponent for the first time since before Christmas. John Calipari's bunch didn't budge. Not by a single point.
A LOT of love:
Kansas, Memphis and Georgetown Storm into Sweet Sixteen
Memphis:
Time to stop doubting
John Calipari
's team, whose winning streak reached 24 thanks to a stifling defensive performance in its 78-62 rout of Nevada. Most impressive about the Tigers was their offensive balance. The only downer:
Chris Douglas-Roberts
left late in the second half with an ankle sprain and didn't return. They'll certainly need him against
Acie Law
.